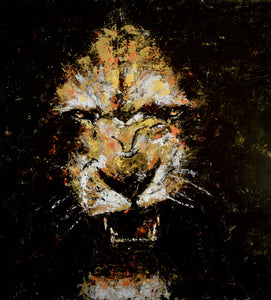 Artwork Name: "Averment II" - Original
Collection: Lions
Certification: ArtTrust Certified
Edition: Original
Medium: Acrylic on Gallery Stretched Archival and Acid-free Canvas
Technique: Palette Knife and Paint Brush
Size: 48x48inch
Created: 2019

Description: The original painting is inspired by Mark's zodiac and is a reminder that "a lion doesn't have to prove itself because you already know what the lion is cable of... but sometimes you have to show your teeth".  The freedom to just be and live in your own truth. Averment II is the twin to the first painting in the Lions collection. 
The painting is created with multiple iridescent acrylic paint colors on a 48"x48" gallery stretched canvas with a palette knife, brush and fingers. It's the second in a collection of paintings with similar themes and techniques.
It comes alive in low lighting evoking deep emotions when standing close looking back into the eyes of the king of the jungle.