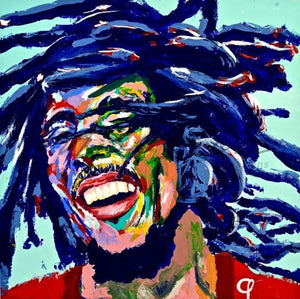 (Desktop Users)
SCAN WITH iPHONE CAMERA 

Artwork Name: "Bob Marley I" - Limited Edition Print
Collection: "Mark Phi Bob Marley Fine Art Paintings"
Certification: ArtTrust Certified
Edition: Limited Edition Color Print (10 max)
Medium: Front Mounted Acrylic on Metallic Paper
Limited Edition Print Sizes: 36x36 inch and 48x48 inch
Original Painting Size: 12x12inch
Original Painting Created: 2014

Description: This rare pose of Bob Marley is the third painting ever created by Mark Phi.  Mark Phi boasts the largest collection of Bob Marley fine art paintings in the world and the only artist ever to have a permanent exhibit at the Bob Marley Museum (Bob Marley's Home) in Jamaica. This painting is also one the most recognizable pieces of Mark Phi's body of work because it went viral when it was shared by the Bob Marley Facebook profile in 2014 and gained over 350K likes and 30K shares within a couple of days.  You may imagine a performance of this musical legend on stage, laughing swinging his locks as he performs your favorite Bob Marley song. Vibrant and made to speak life into any room this is displayed.

Limited Edition Color Prints (10) are produced on front-mounted high definition 1/4" deep polished edge acrylic and metallic paper.
Once all 10 limited edition color prints are sold, no more will be produced.
All Reproductions are certified by ArtTrust and are accompanied by an ArtTrust bubble seal and ArtTrust Certificate of Authenticity. 
The reproduction technique delivers a lustrous viewing pleasure that enhances the brilliance of the colors.