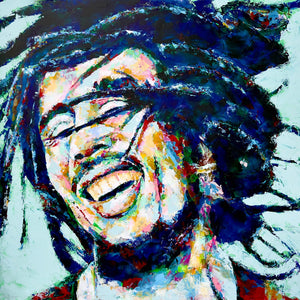 Artwork Name: "Bob Marley" Original
Certification: ArtTrust Certified
Edition: Original
Medium: Acrylic on Gallery Stretched Archival and Acid-free Canvas
Technique: Palette knife and paintbrush 
Size: 48x48inch
Created: 2020

Description: 
This painting is about growth.  This image of Bob Marley was my 3rd painting when I first started painting.  The first version I painted went viral on social media with over 350K likes and almost 40K shares.  
SEE FIRST PAINTING - CLICK HERE
It's one of my favorite images of "Bob Marley" that I will continue painting.  His music has inspired the world but paying homage to him inspired me to continue painting and his philosophy about life, love and unity embody my aspiration for our world. I revisited the piece in 2019 and completed it in 2020 while home during the pandemic.  Since then my collection of Bob Marley paintings on exhibit at the Bob Marley museum went on a world tour starting at the Saatchi gallery in London to Toronto and the most recent exhibit in Los Angeles as a part of the Bob Marley One Love  experience. This piece was a part of the most recent exhibit and is now available for sale by a lucky collector. 

Watch this video to learn about my journey with the Bob Marley Foundation and the work we are doing to raise money for children through UNICEF.

 CLICK HERE TO SEE THE FULL STORY